16 October 2008
Tax-deductible, that's what we are...
...tax-deductible, though near or far
—OK, that's enough singing for now.

The excellent organization
Asia Catalyst
has agreed to be our fiscal sponsor, so contributions to
Who Kill
e
d Chea Vichea?
are now tax-deductible. If that's why you've been holding back, you have no further excuse.
We're asking you to contribute what you can to our newly created
WKCV Project
. The project will not only help finish the film, but also will fund additional translations, teaching materials, and our efforts to bring the film to some key audiences. People in Cambodia being a high priority, for example.
Your support is what's going to get the story of Chea Vichea told, and help the effort to free Born Samnang and Sok Sam Oeun from prison. And since our
ITVS funding
is tied to our other fundraising efforts, your donation is getting matched, in effect.
Contributing is easy, and it'll make you feel so good, too. Just click
DONATE
and you'll see how to mail in a check or put it on your credit card. Paper or plastic, it's up to you.
That link again:
DONATE
What, you're still here? Would more singing help? How about if I don't sing? OK, we've got a deal then!
Dutch treat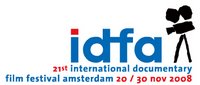 Apologies to our Netherlandish friends for the title of this post. I know they hate that.
(Now here comes the save...) But it is a treat indeed to be selected for
IDFA
, the International Documentary Film Festival Amsterdam.
IDFA is the number one film festival for documentaries. Lovers of documentary and buyers of documentary gather from all corners of the earth to see 200 films shown over ten days of madness.
At IDFA,
Who Killed Chea Vichea?
will be in the section
Reflecting Images: Panorama
. We'll be up for the Volkskrant Audience Award against many of the best docs produced this year.
We're also one of ten films nominated by Amnesty International for the
Movies That Matter Human Rights Award
.
We've learned that all good news means more work (and more expense). Now we have to finish editing in the next few weeks, as the festival starts on November 20. Brad and Will get to spend longer hours in the editing room. And I get to add another logo to the site.
Not only that, but we get to go to Amsterdam! Well, given that airfare's running $700, some of us get to go. And I fear it's going to be Brad and Jeffrey, and not me.
Look for us, or them anyway, around November 22 in Amsterdam. Screening details will be posted here as soon as we know them.
Oh, I almost forgot—"laurels" are all the rage!

Subscribe to Posts [Atom]