31 July 2009
A few thanks, in advance
It's time to recognize a few people who have really stepped up to help with our
screening in Providence
next Friday, August 7.
Bill Barta and Christine Francis have been postering and distributing postcards all over town for days. We're especially trying to reach out to Providence's Cambodian community, which numbers about 8000 to 10,000 people, and Bill was telling me about his visits to temples, social service organizations and other places where people recognized Chea Vichea's name and were so happy that there's a movie about him.
Susan Yund has also been postering, and what's more, has arranged for the bar that she runs to host an after-party for the screening. (More details to come, in a separate item.)
And of course there's George T. Marshall and the
Rhode Island International Film Festival
itself. Aside from accepting
Who Killed Chea Vichea?
into the festival, they have generously made a block of tickets available to a group of Cambodian and Laotian youth from the
Providence Youth Student Movement
who otherwise could not afford to see the film.
Thank you all!
30 July 2009
August 7: Providence, Rhode Island

Having grown up in beautiful Providence, RI, I'm happy to announce that next
Friday, August 7,
Who Killed Chea Vichea?
will screen
(in a near-complete state)
in the Rhode Island International Film Festival.

This is an excellent festival to get into, with a packed schedule of interesting films running all week. (I'm hoping to to see

Sweet Crude

, among others.)

I'm especially pleased that
Who Killed Chea Vichea?
will be shown in the historic Columbus Theater, where so many have enjoyed the great works of cinema over the years. If you're from Providence you know what I mean.


Better move quickly on to the details...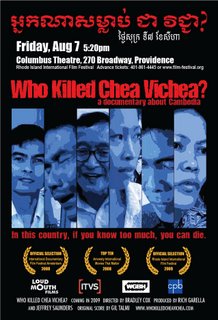 Who Killed Chea Vichea?
Friday August 7, at 5:20pm

Columbus Theater
, 270 Broadway
Providence, Rhode Island

(Included in this screening, the short films

In Their Boots: Broken Promise

by Abe Greenwald and

Open Air

by Shira-Lee Shalit)
Tickets
are $10 and you can buy them
online
or at the door; call the festival office at 401-861-4445 for more information.
If you live in or near Providence we hope to see you at the show. I
n any case please spread the word to any friends or family there (just copy and send this link).


You can also help "add to the buzz" by registering on the festival web site and adding Who Killed Chea Vichea? to your calendar.

And there's more! We invite you to join us at the GCB afterwards, where
courtesy of the management you
can enjoy a free beverage
from 8 to 10 pm, just
by showing your ticket stub from the screening. Walk (30 min) or drive
to Power Street, just west of Thayer. Walk down the ramp from Power Street and go through the black door on the right.
Sorry, 21+ only in the bar.

Labels: festivals, screenings
Subscribe to Posts [Atom]